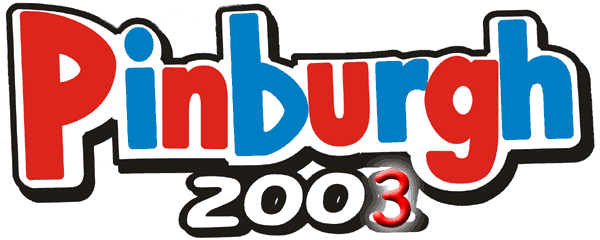 ---
Frequently Asked Questions

May 7, 2003
---
---
Pinburgh 2003 will not be known as PAPA 7. We will again be at the relatively small venue we have used in year past. We feel that the designation "PAPA" should be reserved for larger events only.

We plan to setup a mailing list soon, but this is the most current information available at this time.

What is the date for Pinburgh 2003?
September 12-14, 2003.
What is the location?
Best Western Parkway Center Inn, same as previous years. Since we will be there in the fall, we believe the cooling problems will be reduced.
When do we get to have PAPA 7?
Next year. Pinburgh 2004, aka PAPA 7, will be in June 2004.
Where will PAPA 7 be held, then?
At PAPA World Headquarters - a massive site dedicated solely to PAPA and the Pinburgh/PAPA pinball events. This will house the collection of pinball machines used in tournaments and allow us to run a much larger and smoother tournament.
Will the 2003 tournament be larger than 2002?
It will be basically the same size. There are no plans to add divisions or other new features, as we lack space. However, the event should go smoothly, as we are experienced in this venue :)
Which tournament should I attend?
Both of them, of course! PAPA 7 is a long time from now; you'll need Pinburgh to get your fix in the meantime.
If you have any other questions, feel free to contact us.
---
updated Sep 11, 2003
back to home