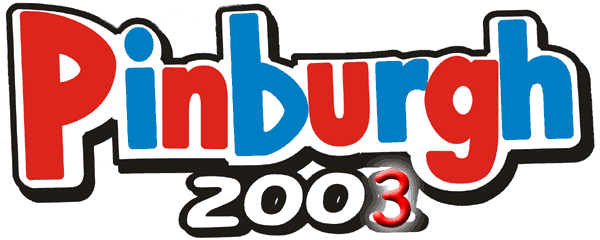 ---
September 12-14, 2003
Best Western Parkway Center Inn
Pittsburgh, Pennsylvania
More than $6000 in Prizes!
---
Thanks to Everyone who Helped!
Complete Final Results!
Final Qualifying Standings
More than 1,019,458,657,750 points scored!
We welcome feedback about this year's tournament!
---
---
Pinburgh 2003, the premier international pinball tournament event, was held September 12-14, 2003, at the Best Western Parkway Center Inn in Pittsburgh, PA. This was the fifth annual Pinburgh tournament.

Players of all skill levels are welcome. It's even fun just to come watch or play the practice bank. Pinburgh is the only United States pinball event dedicated to competitive tournament play, and it's terrific fun you can hardly find anywhere else.

(Some links may be out of date after Sep 14, 2003.)
---
About Pinburgh 2003
Tournament Schedule
Divisions & Prizes
Pricing
Hotel & Travel
- room availability is limited!
Online Registration has been closed; please register on-site!
List of Machines
Tournament Rules
Sponsoring Organizations
Charity Benefit
Other Sites
Have Questions? Send us Email!

Read about PAPA, as well as Pinburgh 2002, Pinburgh 2001, and Pinburgh 2000, Or check out this article from the Washington Post about pinball and FSPA (it also mentions Pinburgh).

Please note that PAPA 7 will be held at a new, larger facility in June 2004. It was not possible to find a suitably larger facility in 2003, so this year's tournament will be Pinburgh 2003, not PAPA 7. Please read the Frequently Asked Questions for more details.

Remember, players of all skill levels are welcome and are eligible to win!



---
updated Sep 16, 2003